Mastering something takes a long time as it requires proper training, dedication, practice, and discipline. Motion design is no different, mainly because it is an art form that requires technical and problem-solving skills. In this three-part series of articles, we will provide a list of skill areas in motion graphics. At a glance, it would look overwhelming because it is. However, the good news is that you don't need all of the skills we list here to get started. Instead, you must develop the most relevant ones to you throughout your career, which usually spans several decades. Getting started is easy; the journey is the hard part.
We categorize the skills into three sections—the essentials, which we introduce in this article, intermediate, and advanced.
The essential skills are the ones you need to get a job. You don't need to master any of them to get started. But a good enough amount following skills would allow you to make show reel to land on a job.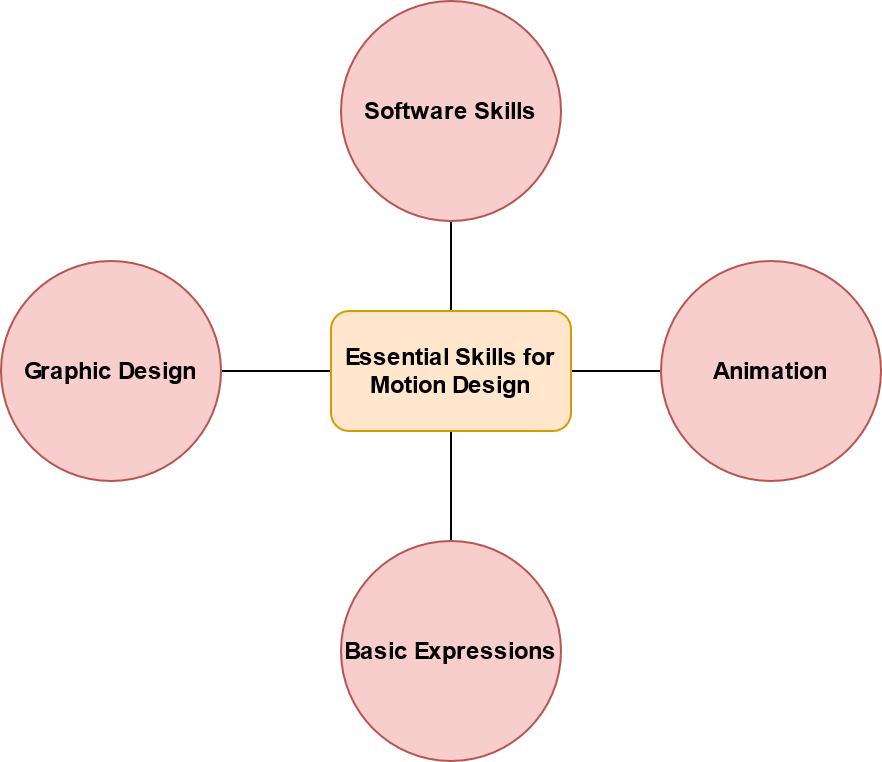 Software skills
Learning the software is the most straightforward task of this journey. And the essential one too. There is a lot of software for motion design, with the most prominent being Adobe products, such as Photoshop, Illustrator, and After Effects. You should see right away that your life is more complex than a graphics designer because you have to learn how to animate stuff too. We highly recommend that you go for the Adobe certification in the future, but for starters, you can learn the software within two months using free online resources. 
Graphic Design
Let's assume that you have learned the software "enough." The next step is to learn some graphic design. You may read about it, watch tutorials, but there is nothing better than practically doing it. We suggest that you make an account at Graphicriver or Shutterstock and start submitting projects. It could be simple logo designs, flyers, business cards, presentation templates, etc. The catch is that they have a strict curation process, and when your work gets accepted, it is a sign that your work is good. They have established marketplaces, and they don't take your designs unless they are up to the standard. But keep in mind, even if they got accepted, the chances are that you won't earn a lot of money right away. It is fine since it is not about money but about becoming a better designer for your motion designer journey ahead.
If you get a question like, "I want to animate stuff, why am I just designing posters and business cards?" think of this. There must be a "design" in the first place to put into "motion." Unfortunately, you may not always get a graphic designer to design your stuff, especially when you are at the starting line. Sooner or later, you will have to do it yourself, and when you do, you have to do it right. Otherwise, either your career will finish before you even begin, or you will struggle for about a decade. Therefore, it is best to spend at least six months to one year developing graphic design skills. 
Animation
Poor animation is a way to get your audience detached from your video. If your design is good, your message is clear. But, if your animation is inadequate or irrelevant, you are not telling the story clear enough. How to communicate feelings with animation takes years of experience, but we recommend that you familiarize yourself with the 12 principles of animation for starters. We have an extensive series coming up specifically using Adobe After Effects. However, pioneers like Alan Becker has already done a great explanation in the character animation domain.
4. Straight Ahead Vs Pose-to-Pose

5. Follow Through and Overlapping

11. Solid Drawing and Posing

Expressions
We are avid After Effects users because it is the current industry-standard tool for motion graphics. Expressions in After Effects is a way to automate animations or actions. Knowledge of basic expressions could save you hours, even days of frustration in the long run. Even though they seem a bit technical, we recommend everyone to learn some expressions in the beginning.
We introduced the four most essential skills anybody needs to learn to get started with motion graphics. We think it might take approximately two years for an absolute beginner to gain "enough" experience with these skills. If you think two years is a long time, know that it is nothing comparing to the journey ahead. If you can be serious about developing the above essential skills before going on, it might speed up your development by 10X since you are growing on a solid foundation.
What's next is to dive into the water. Please start at the shallow end with small freelance gigs for marginal commissions or even free service while expanding into other skills, which we will explain in our next blog post.