The advanced skills we discuss in this article are optional. You can be a great motion designer and have a successful career without them. However, if you wish to become a behemoth in your domain, the following areas of knowledge may clear the path for you. These are the super-advanced skills that could take you to the level of motion design entrepreneur.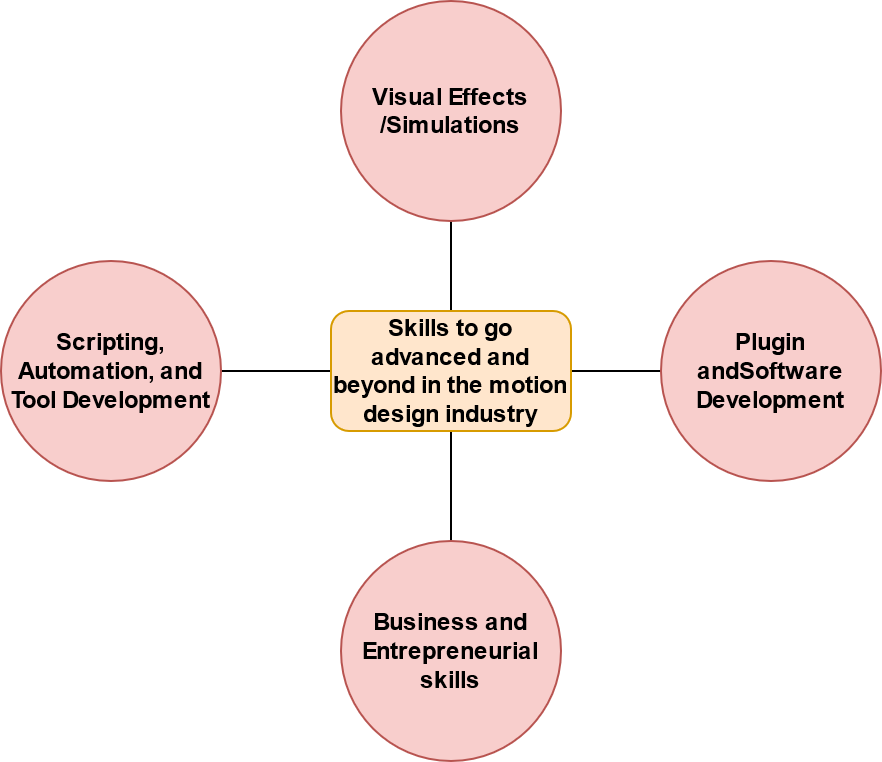 Visual Effects (VFX)
The VFX industry is enormous. In one perspective, we can consider motion design as a sub-domain of VFX. However, as a motion designer, you can acquire VFX areas such as 3D modeling and shading, fluid simulations, pyro effects, cloth effects, advanced lighting, rendering techniques, 3D match moving, and color grading. VFX could add a lot of value, but they are usually individual areas of expertise. Motion designers acquire some experience in VFX techniques along the way, but we suggest specialized knowledge in an area such as fluid and abstract effects. Such skills and seasoned design and animation experience should promote you to motion designers' highest paying elite genre.
Scripting and Automation
As you grow into a skilled and experienced artist, you can further enhance yourself by venturing into scripting and automation. The ability to program can give you superpowers since you can talk to the software directly. Every software package has exposed a programming interface with a well-defined object model to allow artists to program actions. It is one of the best ways to automate time-consuming procedures and developing in-house tools. Moreover, scripted tools are also a profitable business. However, tool development and automation are not essentially advanced forms of motion design. It is just that it is impossible to become one without domain knowledge in motion design. If you are an experienced motion designer, consider teaming up with a good script developer, which is the best way to thrive in the tooling industry.
Programming and Software Development
Unlike scripting, which is about automating the existing functionality in the software, plug-in development is a separate beast that allows you to extend the functionality of the original software. It requires a whole different skill set in the domain of software development, which is highly technical. Please don't make the mistake of thinking that you need to become a programmer to call yourself a master motion designer. The tool and plug-in development is a separate avenue. However, it is a great way to enhance and contribute to the motion design industry. That is why masters should consider going into it. Programmers do not have to be motion designers and vice versa, but experienced motion designers should overlook software functionality under development. When artists are involved in the development process, magic is guaranteed almost all the time.
Business/Entrepreneurship
When you mature in motion design and the projects getting more extensive, you will have to team up with other artists sooner or later. It could be designers, 3D artists, character animators, effects artists, and even developers. You need to have effective communication and leadership skills to successfully handle a project with a team. At this point, we are talking about a seasoned motion designer who is 15-20 years into his or her career. With such immense experience and knowledge, it is possible to move into an entrepreneurial role. For most people, it naturally happens. The projects become more extensive and more frequent, and you happen to have a team working with you almost constantly. Then organizing them into a company seems a logical step forward. However, once you are at this stage, you are no longer just a motion designer but a powerhouse in the industry.
Still, we are not suggesting that becoming an entrepreneur is the ultimate level of mastery for a motion designer. Care to know what we believe? On the contrary to what we have written so far throughout three consecutive blog posts, we believe there is no level called a "master of motion design." We firmly believe it is a relentless journey of learning and sharing.
We introduced essential, intermediate, and advanced skills for motion design in this "Mograph Skills" series. Even though presented in a particular order, there is no such order either. For example, the writer of this article has started as a 3D artist, moved into character animation, later on, became a motion designer, and choose to enhance skills further as a software engineer subsequently. Some people started as programmers, concept artists, storyboard artists, character animators, and even camera assistants. Whichever point you enter the field of motion design, you need various skills to develop. It is a journey of creating, learning, and sharing knowledge with the community until you happily retire as a true master.